Details
Written by
2019-2024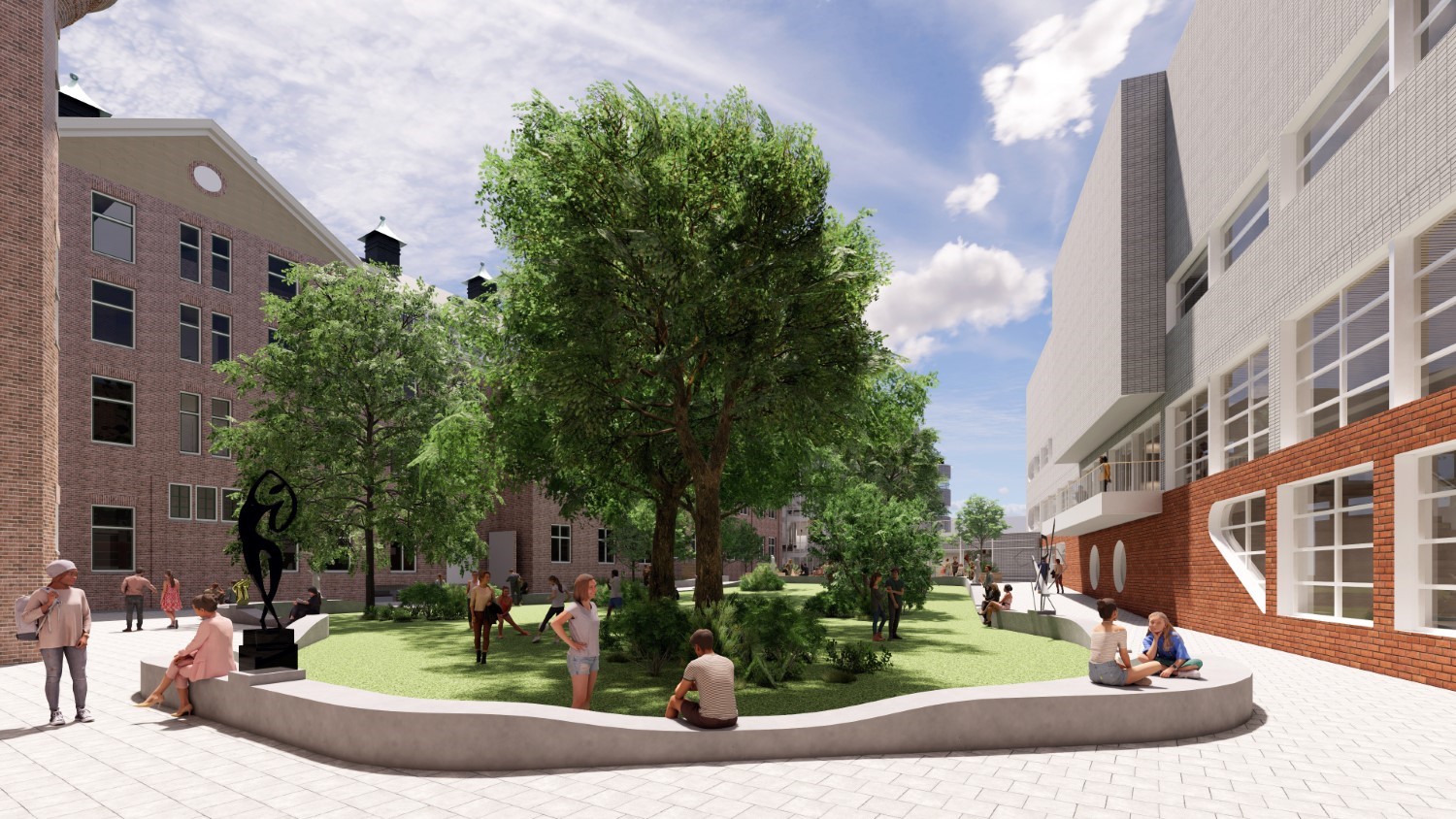 Montessori Lyceum Amsterdam (2019-2024)
Newly built: Herman Hertzberger, Laurens Jan ten Kate, Harm Freymuth, Jeroa Amanupunnjo, Martijn Beemsterboer, Tom Vermeer
Renovation: Herman Hertzberger, Dafne Wiegers, Arne de Gans
This new house for the Montessori Lyceum Amsterdam is designed as a working community where everything necessary for good education is provided. The current conglomeration of building components will be forged into a coherent whole with a central focus. Every square meter must be used for learning. It must be possible to work everywhere and all corners and more or less enclosed places will offer cause and challenge to learning and thus concentration as well as consultation, for smaller and larger groups of students.
Based on the principles of Montessori - that form the ambition of the Montessori Lyceum Amsterdam - the renovated building will also become an environment for education and a broader perspective. In addition to imparting the knowledge that society expects, it is above all about learning to think and then in the perspective of the world and how it will proceed. Montessori education aims to make a classroom more like a living room and the school more like a home and a familiar environment. But our heterogeneous society also requires that you are already prepared at school to understand yourself with those who think differently and thus put values ​​into perspective. That is why the environment must be adjusted to social relationships and everything that can contribute to this in a spatial sense must be used and given conscious attention.
This design pleads for more openness and thus accessibility, less separation, such as by separate floors and classrooms grouped around a central hall with a view of each other. Places everywhere where you can meet each other unintentionally or where cause is offered for a joint delay, however fleeting. A central hall functions as an urban square space where all can come together, evoking a sense of commonality and where events that affect all are shared. In this way, the school becomes a city as well as a home, with not only familiarity but also the challenges of the other and new.
Spatially, we therefore designed varied, changeable and above all open space forms that invite concentration but also exchange. A kind of school, less like an institution where, even if it is temporary, your freedom is taken from you and where you receive knowledge. We must look for a form of educational space where there is more to experience, such as in the city and in the world of the internet. However exciting the lessons are made, the screen offers a space that, through its mesmerizing power, competes with physical space. This makes the space of the environment, especially as a social space, all the more topical, if only to keep the reality of living as a community.
The Montessori Lyceum Amsterdam will become a spatial whole, in which the focus on social exchange becomes the important component.
Address
Pieter de Hoochstraat 59, 1071 ED Amsterdam
Gross floor area
18.765 m2 (7.565 m2 newly built, 11.200 m2 renovation)
Client
Montessori Scholengemeenschap Amsterdam
Collaboration
Project management: ICSadviseurs
Structural engineer: Van Rossum
Building physics consultant: moBius consult
Installation consultant: Vintis
Financial consultant: M3E